&nbsp

We're highlighting one of our favorite window manufacturers, and their 3 lines of windows.  Soft-Lite produces the Barrington, Pro and Imperial LS window lines from their new state of the art factory near Cleveland, OH, where they have been manufacturing windows for over 70 years.  Today Soft-Lite produces their window lines on automated equipment- ensuring window fabrication free of workmanship errors, which results in highly consistent finished windows that feature industry-leading tolerances.  With the Barrington, Pro and Imperial LS- Soft-Lite has earned a reputation for offering the broadest selection of windows and options in the vinyl window industry.
Soft-Lite windows are tested to the advanced AAMA Gold Label Certification, which is AAMA's highest level of testing for thermal performance, as well as air, water and structural integrity.  We look for products with th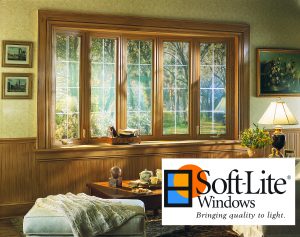 e Gold Label Certification to ensure the products are tested on an even plane- which ensures a fair comparison between products.  Under this certification Soft-Lite must use every component and part identical to the window that was initially tested, and they must also allow AAMA to test any window off their line to ensure it meets the standards Soft-Lite advertises.
Across the 3 window lines Soft-Lite has used the same key features to provide a higher standard of replacement window.  On the Barrington, Pro and Imperial LS you'll find Q-lon neoprene saddle gasket at the base of the bottom sash intended to make contact with a ridge in the sill- which gives an additional barrier to air and water penetration, and has been proved to improve AAMA test results.  You'll also find what makes Soft-Lite the healthy choice in replacement windows – double the amount of weatherstripping than the industry standard, made with silver-based antimicrobial biocide.  The "Ultra-Smart" triple-fin weatherstripping fights pollen, bacteria, dust mites and prevents mold and fungi.
So how do the windows preform?  There are a variety of options with glass packages to cater the window to our customer and the needs of their home, so it's tough to give an exact figure.  The NFRC measures glass/window efficiency through U-Factor and the expected heat gain through Solar-heat gain coefficient.  AAMA measures air infiltration and structural strength to give the consumer a decent idea about how well the window is put together.  It's my opinion that comparing these 4 metrics gives you an apples to apples comparison on the windows.  You can check out more about the ratings here: http://www.efficientwindows.org/nfrc.php
You can find out more about Soft-Lite and their window lines on the website.  This page on their website does a decent job of preparing consumers on what to look for when purchasing windows: http://www.soft-lite.com/education/recognize-a-good-vinyl-double-hung-window.asp